As Fall weather settles in and we get past the peak of hurricane season in Houston, many commercial building owners and business owners are beginning to prepare their interiors for updates and repairs. Exterior repairs may still be underway, but planning and preparing for interior updates, and in some cases performing interior updates, is currently happening on many commercial buildings.
For some, these regular yearly maintenance components can be a hassle or turn into larger projects than expected. In these cases, turning to a professional for help may be necessary. If you've never had the pleasure of scheduling a consultation and getting an estimate with a professional painting company, here are a few important things to keep in mind.
What Should I Expect from a Painting Contractor?
The purpose of hiring a professional painter for your project is to provide you with peace of mind that the painting, maintenance, touch up, or other work you need to be done is completed correctly and will last as long as possible. Researching companies to find those that are trusted by the community and have high customer satisfaction ratings is a good place to start to ensure that the company you choose will deliver quality work.
Hiring the right painting company for your project means finding a contractor that is willing to meet your needs every time. Once you've found a painting company that aligns with your project's needs, you should feel confident that the project is in good hands.
Ultimately, you should expect a painting contractor to be courteous and professional. You should feel like they are trustworthy and they listen to your concerns. During your consultation, you should be able to ask any questions whatsoever to determine if the painting contractor will value you and your building the way you deserve.

How does a Painting Estimate Work?
Once you've booked your free estimate with your painting company of choice, an estimator or other representative will meet you on-site. A professional painting estimator will lead you through the conversation by listening to your requests and asking questions to help direct their team to bring your vision for your project to life.
After gathering the information they need, including measurements and photos, your painting estimator will also go over any necessary repairs they've noticed during their inspection. This step should happen before they give a quote so that there is minimal confusion along the way.
What Should a Painting Quote Include?
Getting a painting quote may take a few days as the estimator brings the information about your home's unique characteristics and measurements back to the office. The estimator then takes the time to look over everything and customize a quote based on your building's current condition, any repairs that are needed, paint types and tools they'll utilize, and more. Their goal is to provide you with an accurate estimate of both time and cost. Professional painting companies make this a priority since your time is valuable to them and timelines are an important part of your project.
Your full estimate should include a breakdown of labor, details of paint application (brand name and number of coats of paint), material costs, a detailed description of surface prep work, and any suggested repairs. It should also detail the project step by step, from start to finish.
The bottom line is that all important details should be included and no hidden charges or surprise fees should arise.

What Should I Expect from a Professional Painter?
We believe professional painters should be able to give you an assurance of quality of work. At Streamline Painting & More, we provide our customers with a peace of mind by:
Always showing up on time, every time
Properly covering building equipment and furniture to keep it intact
Never deviating from the budget given on our printed estimate
Maintaining current licenses, certifications, and insurances
First and foremost, we begin each project during the estimate phase by discussing the best value, cost, and payment plan for our client. We always abide by our budget and never charge a dime over the given price – even if it ends up costing us more to complete! Finally, we offer a flexible payment plan to make payments easier for our clients.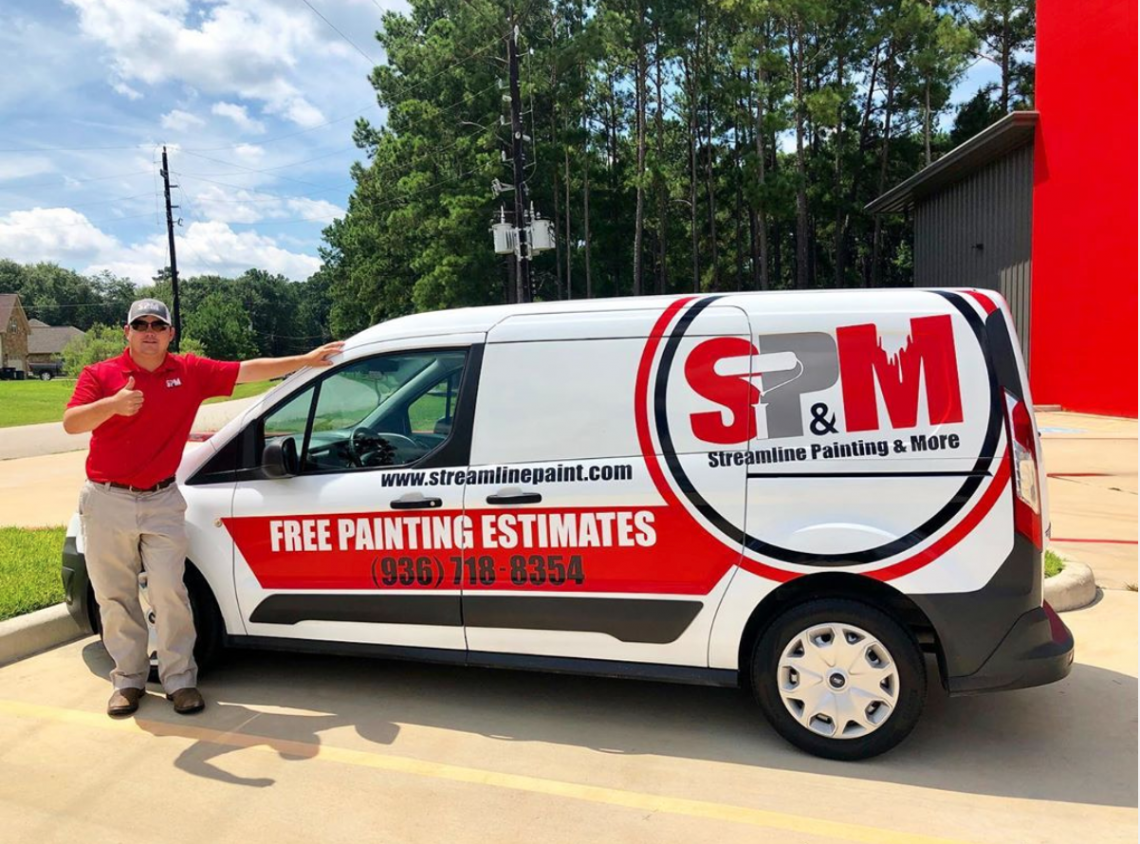 When you work with Streamline Painting & More, you are guaranteed to be completely satisfied with the work we complete on your building. Our company focuses on the details. Not only do we want your maintenance or painting project to be executed perfectly, but we also want our working relationship to be an enjoyable one for all parties.
As a Top Rated Local® Painting Service in Conroe, Texas, we prioritize our quality, value, and timeliness as well as customer experience and satisfaction. Every project receives a free, full, all-inclusive two-year warranty because we want you to love your project.
If you have any interior projects you would like to schedule, call us to set up an appointment and let us help make your project the most enjoyable it can be.