The humid climate here in Houston encourages moss and algae to adhere and grow to many surfaces. That means your roof, siding, driveway, and front walk are all susceptible. Over time, this growth can take hold and damage your building's exterior making your building age faster than it would otherwise.
Cleaning the siding and roof are important preventative steps to ensure longevity for any commercial building. It is recommended that these areas of your building are washed at least once a year. As you consider what date your building is due for a power wash, here are some details describing what it takes to clean these surfaces properly.
Roof Cleaning
The proper tools for cleaning your roof will depend on what materials were used to make it. Identifying what type of treatment is necessary for your roof cleaning, while simultaneously understanding how to protect it during the cleaning process, is imperative. A steep roof can be dangerous to attempt to clean on your own, not to mention the cost savings and quality assurance you'll get from a professional contractor that offers excellent service.
If your building's roof is made of asphalt shingles, cleaning can be done with a low-pressure cleaning system or soft washing, as some contractors may call it. Due to the nature of shingles, any high-power water streams can loosen shingles and shorten the lifespan of your roof. It is important to note that your roof pieces will have a manufacturer-recommended way to clean in order to keep your warranty active.
The most important component of cleaning shingles is the mixture. Professionals recommend a mixture of water and sodium hypochlorite (also known as a bleach solution) or a high-quality soap to penetrate any algae growth and allow the sun to break down these pesky growths. After a soft washing, experienced power washers go over problem areas with wire brushes or scrubbers to gently remove any excess algae growth.
Metal roofs are similar in their cleaning process but are susceptible to different types of growth on them. Knowing what kind of growth is on your roof will determine the appropriate way to clean and remove them. Professional cleaners and contractors know what to look for and can determine if there is bacterial, fungal, or some other type of growth.
Metal roofs are installed differently than shingle roofs and can be difficult to clean. Allowing a professional to determine what methods are best for your roofing material as well as the growth on your roof can prevent future damage and help restore the quality of your roof. What's more, professionals have access to higher quality cleaning agents than the widely available, over-the-counter products. Have an expert inspect and clean your roof to ensure you have the right cleaning process done for your type of roof.
Siding Cleaning
It is important to keep the siding of your commercial building clean and washed on a regular basis. We recommend painted wood, vinyl siding, concrete, and brick be washed with a pressure washer to maintain cleanliness and remove debris. Siding that is made up of softer materials (including aluminum) should be cleaned with soft washing methods to avoid causing damage. Regularly cleaning these areas allows the siding of your building to protect the structural integrity of the inside walls and keep moisture, allergens, and algae out.
The key to good cleaning is hiring professional contractors who have knowledge of the type of equipment each surface needs. The contractor you hire will know how to use their power washing equipment and are experts at treating each surface with the equipment they have. One of the greatest benefits to pressure washing is that pressurized water is often strong enough to clean these surfaces so you don't have to worry about any environmental harm that can be caused by chemical additives.
Outdoor Areas and Walkways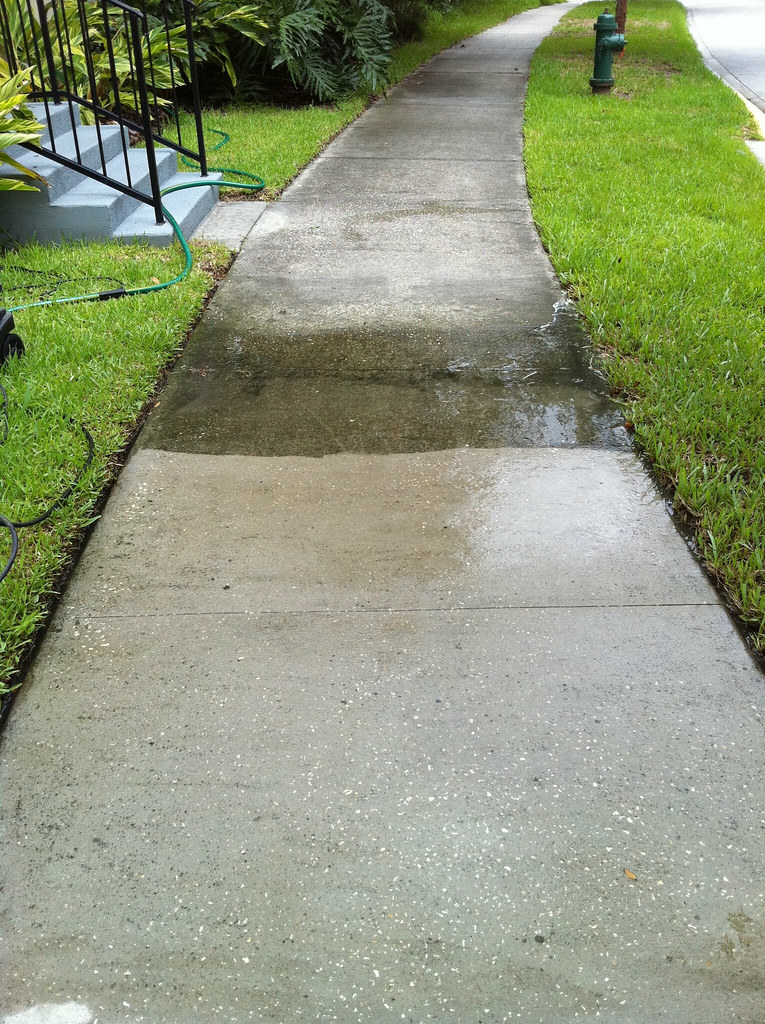 Unsightly walkways, parking lots, and patio areas can deter clients from entering your building. Regular maintenance and upkeep of these areas can rejuvenate the curb appeal of your commercial building. One of the best ways to clean these surfaces is by pressure washing.
Professional contractors will have recommendations for additives to protect and coat your outdoor spaces to add an additional layer of protection. It is important to make your building look its best, for obvious reasons. It's equally (or arguably more) important to improve your building's ability to withstand the elements with regular cleanings to lengthen its lifespan.
Streamline Paint & More uses specialized high-pressure washing, combined with low-pressure surface cleaning techniques to clear away grime without damaging your building's exterior surfaces. This is a great option to clean a wide array of siding materials as well as your roof, sidewalks, and outdoor areas. For a free estimate and a detailed explanation of what our experience can bring to your next cleaning project, call us today.